Foka Wolf: Street artist channels spirit of Banksy
Posters poking fun at the annoyances of modern life are turning up across London and Birmingham.
The spoof ads by Foka Wolf – the latest of which takes aim at the second city's new Primark store – are, unsurprisingly, drawing comparisons with the work of Banksy.
The Birmingham-based artist, who has been identified in newspaper reports as being both male and female but prefers to be referred to as "they", now boasts more than 10,000 Instagram followers.
Foka Wolf told the Evening Standard how their work started as handwritten notes created when they were "severely hungover".
From those modest handbills, they went on to create designs for huge billboards, which at first glance can look like ordinary adverts.
The theme of childhood is one that Foka Wolf has explored more than once.
And, perhaps inevitably, the artist's take on Brexit has also been the subject of their work.
Speaking to the BBC earlier this year, the artist said: "I try not to have a political leaning… because we live in a time where it's a little bit clouded and no-one knows what is really going on."
You may also like:
More often than not, it's the everyday annoyances, rather than the political ones, that crop up in Foka Wolf's art.
Explaining their ethos, Foka Wolf said: "I'm trying to show people the nature of information, and question the nature of information – basically, put these fake adverts in so people question real news and adverts.
"But off the back of that, I've realised that there's a bunch of people who believe anything you stick up. If you put it up in the right way, people think it's real."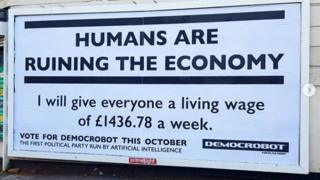 Foka Wolf is exhibiting some of their art at Bene Culture on Gibb Street in Digbeth, Birmingham, on 17 November.